BRNO is the second largest city in the Czech Republic by population and area, the largest Moravian city, and the historical capital city of the Margraviate of Moravia. Brno is the administrative center of the South Moravian Region in which it forms a separate district (Brno-City District). The city lies at the confluence of the Svitava and Svratka rivers and has about 400,000 inhabitants; its greater metropolitan area is home to more than 800,000 people.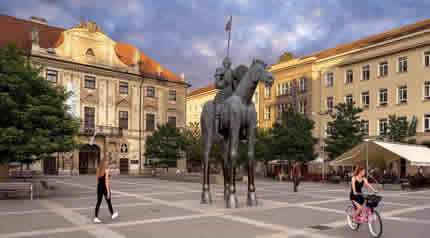 The most visited sights of the city include the Špilberk castle and fortress and the Cathedral of Saints Peter and Paul on Petrov hill, two medieval buildings that dominate the cityscape and are often depicted as its traditional symbols. The other large preserved castle near the city is Veveří Castle by Brno Reservoir. This castle is the site of a number of legends, as are many other places in Brno. Another architectural monument of Brno is the functionalist Villa Tugendhat which has been included on the UNESCO list of World Heritage Sites. One of the natural sights nearby is the Moravian Karst.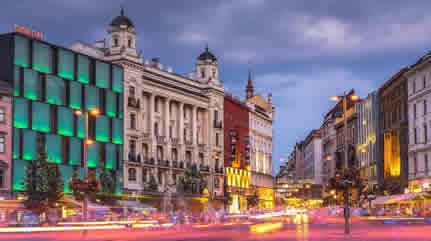 Brno is located in the southeastern part of the Czech Republic, at the confluence of the Svitava and Svratka rivers and there are also several brooks flowing through it, including the Veverka, Ponávka, and Říčka. The Svratka River flows through the city for about 29 km (18 mi), the Svitava River cuts a 13 km (8 mi) path through the city. The width of Brno is 21.5 km (13.4 mi) measured from the east to the west and its overall area is 230 km2 (89 sq mi).[48] Within the city limits are the Brno Dam Lake, several ponds, and other standing bodies of water, for example reservoirs in the Marian Valley or the Žebětín Pond. Brno is surrounded by wooded hills on three sides; about 6,379 ha (15,763 acres) of the area of the city is forest, i.e. 28%. Due to its location between the Bohemian-Moravian Highlands and the Southern Moravian lowlands (Dyje-Svratka Vale), Brno has a moderate climate. Compared to other cities in the country, Brno has a very high air quality, which is ensured by a good natural circulation of air; no severe storms or similar natural disasters have ever been recorded in the city.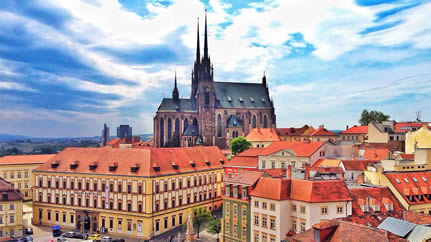 MORE INFORMATION ABOUT CZECH REPUBLIC