Croatia, officially the Republic of Croatia is a country in Central Europe and Southeastern Europe at the crossroads of the Pannonian Plain, the Balkans, and the Adriatic Sea. Its capital and largest city is Zagreb. Croatia borders Slovenia to the north, Hungary to the northeast, Bosnia and Herzegovina to the southeast, Serbia to the east, and Montenegro to the southeast.
The transport connections, concentration of industry, scientific and research institutions and industrial tradition underlie its leading economic position in Croatia. Zagreb is the seat of the central government, administrative bodies and almost all government ministries.


Zagreb is the capital and the largest city of the Republic of Croatia. It is situated in the northwest of the country, along the Sava river, at the southern slopes of the Medvednica mountain. Zagreb lies at an elevation of approximately 122 m (400 ft) above sea level. In 2008, Zagreb population was 804,200.

Capital city: Zagreb
Time zone: CET (UTC+1)
- Summer (DST) CEST (UTC+2)
Official language: Croatian
Currency: Kuna (HRK)
Exchange rate: Click Here
Drives: on the right
Calling code: 385
MAP of Zagreb Click Here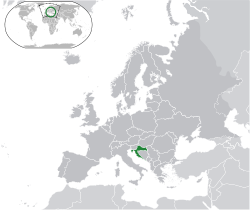 Climate
The coast of Croatia revels in a pleasant Mediterranean climate. Summers are hot, sunny and dry, with an average temperature of 79°F (26°C), while winters have cooler weather, though still mild, temperatures dropping to a minimum of 39°F (4°C). Inland, Croatia experiences a more severe continental climate, with greater differentiation between the hot summer and cold winter conditions.
More information about Croatia - Click Here
More information about Zagreb - Click Here
ATTRACTIONS