Manila is located on the eastern shores of Manila Bay and is bordered by Navotas and Caloocan to the north, Quezon City to the northeast, San Juan and Mandaluyong to the east, Makati on the southeast, and Pasay to the south.
| | |
| --- | --- |
| | The city is divided into six legislative districts and consists of sixteen geographical districts: Binondo, Ermita, Intramuros, Malate, Paco, Pandacan, Port Area, Quiapo, Sampaloc, San Andres, San Miguel, San Nicolas, Santa Ana, Santa Cruz, Santa Mesa and Tondo. Within their precincts can be found areas of bustling commerce and some of the most historically and culturally significant iconic landmarks in the country as well as the seat of the executive and judicial branches of the government. It is home to many scientific and educational institutions, as well as numerous sport facilities. These make the city a major political, commercial, cosmopolitan, cultural, educational, religious, and transportation center of the Philippines. |
The Philippines, officially known as the Republic of the Philippines is a country in Southeast Asia in the western Pacific Ocean. To its north across the Luzon Strait lies Taiwan. West across the South China Sea sits Vietnam. The Sulu Sea to the southwest lies between the country and the island of Borneo, and to the south the Celebes Sea separates it from other islands of Indonesia. It is bounded on the east by the Philippine Sea. Its location on the Pacific Ring of Fire and its tropical climate make the Philippines prone to earthquakes and typhoons but have also endowed the country with natural resources and made it one of the richest areas of biodiversity in the world. An archipelago comprising 7,107 islands
Capital city: Manila
Time zone: PST (UTC+8)

Official language: Filipino (based on Tagalog) English
Recognised regional languages Bikol, Cebuano, Hiligaynon, Ilokano, Pampango, Pangasinense, Tagalog, Waray
Currency:Peso (Filipino: piso) (PHP)
Exchange rate: Click Here
Drives: on the right
Calling code: +63
MAP of Manila Click Here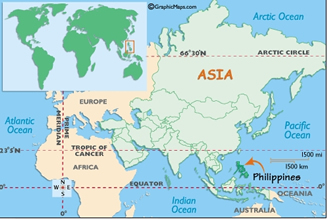 Climate
The Philippines has a tropical maritime climate and is usually hot and humid. There are three seasons: tag-init or tag-araw, the hot dry season or summer from March to May; tag-ulan, the rainy season from June to November; and tag-lamig, the cool dry season from December to February. The southwest monsoon (from May to October) is known as the Habagat, and the dry winds of the northeast monsoon (from November to April), the Amihan.[94] Temperatures usually range from 21°C (70°F) to 32°C (90°F) although it can get cooler or hotter depending on the season. The coolest month is January; the warmest is May.
More information about Philippines - Click Here
More information about Manila - Click Here
ATTRACTIONS