Budapest is the capital of Hungary. As the largest city of Hungary, it serves as the country's principal political, cultural, commercial, industrial, and transportation center and is considered an important hub in Central Europe. In 2008, Budapest had 1,702,297 inhabitants, down from a mid-1980s peak of 2.1 million. The Budapest Commuter Area (or Greater Budapest) is home to 3,271,110 people. The city covers an area of 525 square kilometres (202.7 sq mi) within the city limits. Budapest became a single city occupying both banks of the river Danube with a unification on 17 November 1873 of right-bank Buda and Óbuda with left-bank Pest. Budapest is the city with the biggest Jewish population in Europe.
Climate
The city has a temperate, transitional climate - somewhere between the mild, snowy weather of Transdanubia, the variable continental climate of the flat and open Great Plain to the east and the almost sub-Mediterranean weather of the south.
Time zone
CET (UTC+1)
Summer (DST) CEST (UTC+2)
Official languages
Hungarian (Magyar)
Population
For 95% of the population, the mother language is Hungarian, a Finno-Ugric language unrelated to any neighbouring language and distantly related to Finnish and Estonian. The main Minority group are the Roma (2.1% - 10%). Other groups include: Germans (1.2%), Slovaks (0.4%), Croats and Bunjevcis(0.2%), Romanians (0.1%), Ukrainians (0.1%), and Serbs (0.1%).
Information about Hungary and Budapest - Wikipedia
Drives on the left
MAP
Map of Budapest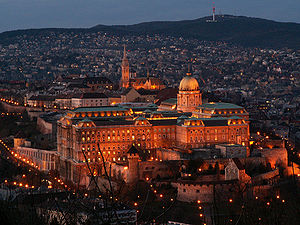 CURRENCY
Forint (HUF)
Currency converter
ATTRACTIONS

City Park
The City Park is Budapest's biggest public park and cultural centre. Until the 18th century, it was a swamp just outside the fast-growing city of Pest…(More)

Buda embankment
The Buda embankment of the Danube is full of interesting sights and landmarks. The tram running between the Gellért Hotel and Batthyány tér is an excellent means of sightseeing…(More)

Bridges in Budapest
Budapest is divided into two by the river Danube. There are a total of 8 bridges in the city, including a railway bridge. Read about the Budapest bridges, going from North to South…(More)

Cultural Avenue
The "Museum Mile" concept, popular in the United States, had been brought to life in Budapest. It includes the area between the Buda Castle District and the City Park…(More)